Serving All Your Video Ad Needs with SpotX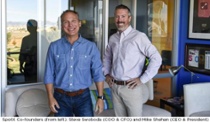 Media owners look for technology they can trust to help them gain complete control over monetized content with video advertising. SpotX is a company in the United States that considers themselves to be a one-stop solution, offering modern ad serving and sophisticated programmatic capabilities with an entire suite of integrations and ad units across all devices. This work has led them to win the Gold Stevie® Award for Maverick of the Year in The 2017 American Business Awards. 
Getting the message across
                                                                                 
SpotX is a video ad serving and inventory management platform with 10 offices across the United States, Europe, and Asia-Pacific. Their technology powers modern ad serving, programmatic enablement, and other advanced video monetization tools for a variety of different media owners, such as PBS, Spotify, E.W. Scripps, Zynga, and Conde Nast. In 2014, RTL Group acquired a 65% stake in SpotX. The company was founded in 2007 by Michael Shehan and Steve Swoboda and has over 350 employees.
SpotX grew their roster of platform clients by more than 50% in 2015. Fast forward to 2017, a significant year for connected TV, and SpotX kicked off the new year with a guide to connected devices. Connected TV devices can be anything from smart TVs, gaming consoles, set-top boxes, and more. SpotX expects to continue getting the message across to the right consumers and using the right tools to run a successful campaign.
Exceptional leadership
Publishers use SpotX to connect all of their demand sources—ad networks, DSPs (demand-side platforms), trading desks, and exchanges—creating a single place where media owners have complete control and actionable insights to maximize revenue. Erin Smith is the Content Specialist and Marketing Coordinator at SpotX and is excited about the attention they've received that has benefited their global team.
"This award has helped us elevate our new Chief Revenue Officer in-market and highlighted his exceptional leadership across members of our global team."
Smith continues on about how the Stevies specifically impacted their Chief Revenue Officer.
"Our Stevie-winner Sean Buckley was named Chief Revenue Officer of SpotX this year at the age of 29, making him the fourth C-level executive at our company. Sean's tenacity and deep knowledge of the complex ad tech industry have contributed to his rapid rise and we're thrilled to have such a dynamic leader as a member of our team."
Adapting to the Future
SpotX is deeply involved in the ongoing industry discussion around the rise of over-the-top (OTT) video and the rapid adoption of programmatic advertising across desktop, mobile, and connected TV devices. "We've gained an early foothold in the burgeoning Asia-Pacific region, where mobile adoption over the last few years has spurred enormous growth in video advertising," says Smith.
They're also strong proponents of the server-to-server bidding model for ad inventory, aiming to educate the industry on the many benefits and efficiencies that it provides for media owners. Smith comments on a tweak they made that helped solidify their success today.
"We united the departments that serve our two distinct groups of customers under central leadership, spurring collaboration across our global teams."
The adaptability of leadership in making sure that you're always innovating and staying ahead of the competition is crucial in the world of video, and SpotX is all about "X marks the spot."