Learn About all of the Stevie® Award Programs
All women executives and entrepreneurs worldwide - and the organizations they run - are eligible to be nominated in the Stevie® Awards for Women in Business.

2016 entries will open in May.

All U.S.-based organizations are eligible to participate in the top business awards program in the U.S.A.

The entry deadline is February 18.

Die German Stevie Awards sind ein Wirtschaftspreis für alle Unternehmen und Einzelpersonen die in Deutschland niedergelassen sind.

Der Einsendeschluss wurde bis zum 12. Februar 2016  verlängert.

The Asia-Pacific Stevie Awards will recognize the achievements of organizations and executives throughout the 22-nation APAC region.

The final entry deadline is March 23.

All organizations worldwide are eligible to compete in dozens of categories, from Company of the Year to Executive of the Year, in the IBAs.

The early-bird entry deadline is April 13.

All customer service, contact center, business development and sales professionals may be nominated in the Stevie® Awards for Sales & Customer Service.

Gold, Silver and Bronze Stevie Award placements will be revealed in Las Vegas on March 4.
The Stevie Awards Blog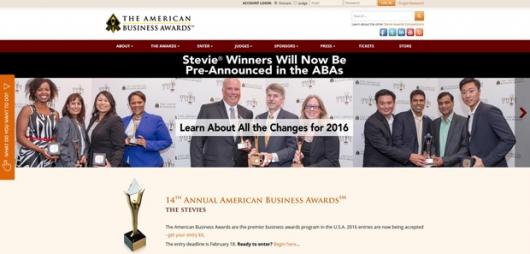 We are pleased to announce that the new Stevie® Awards websites are live. The new websites make learning about each of the Stevie Awards programs much easier – from requesting an entry kit to viewing the lists of categories. Check out the sites on your laptop or tablet today at www.StevieAwards.com. Here's a rundown of features on...