Learn About all of the Stevie® Award Programs
Die German Stevie Awards sind ein Wirtschaftspreis für alle Unternehmen und Einzelpersonen die in Deutschland niedergelassen sind.

August 2016: Berwerben Sie sich ab jetzt bei den 3. German Stevie Awards. 

The newest Stevie Awards program will recognize the world's best companies to work for in a wide variety of categories. 

The early-bird entry deadline is May 4.

All organizations worldwide are eligible to compete in dozens of categories, from Company of the Year to Executive of the Year, in the IBAs.

The entry deadline is May 11.

The Asia-Pacific Stevie Awards will recognize the achievements of organizations and executives throughout the 22-nation APAC region.

2016 Stevie winners are announced and will be celebrated in Sydney on May 27.

All U.S.-based organizations are eligible to participate in the top business awards program in the U.S.A.

Stevie Award winners will be announced on May 2.

All women executives and entrepreneurs worldwide - and the organizations they run - are eligible to be nominated in the Stevie® Awards for Women in Business.

2016 entries will open in May.

All customer service, contact center, business development and sales professionals may be nominated in the Stevie® Awards for Sales & Customer Service.

2017 entries will open in July 2016.
The Stevie Awards Blog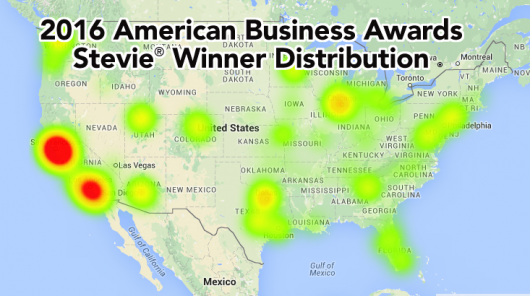 Winners to be Celebrated in New York on June 20 (see summary of major winners by major MSA below) The Stevie® Awards, organizers of the world's premier business awards programs, today announced the Gold, Silver and Bronze Stevie winners in The 14th Annual American Business AwardsSM. All organizations operating in the U.S.A. – large and small,...