Company/Organization Categories Judging Committee
2017 COMPANY/ORGANIZATION AWARDS JUDGING CHAIR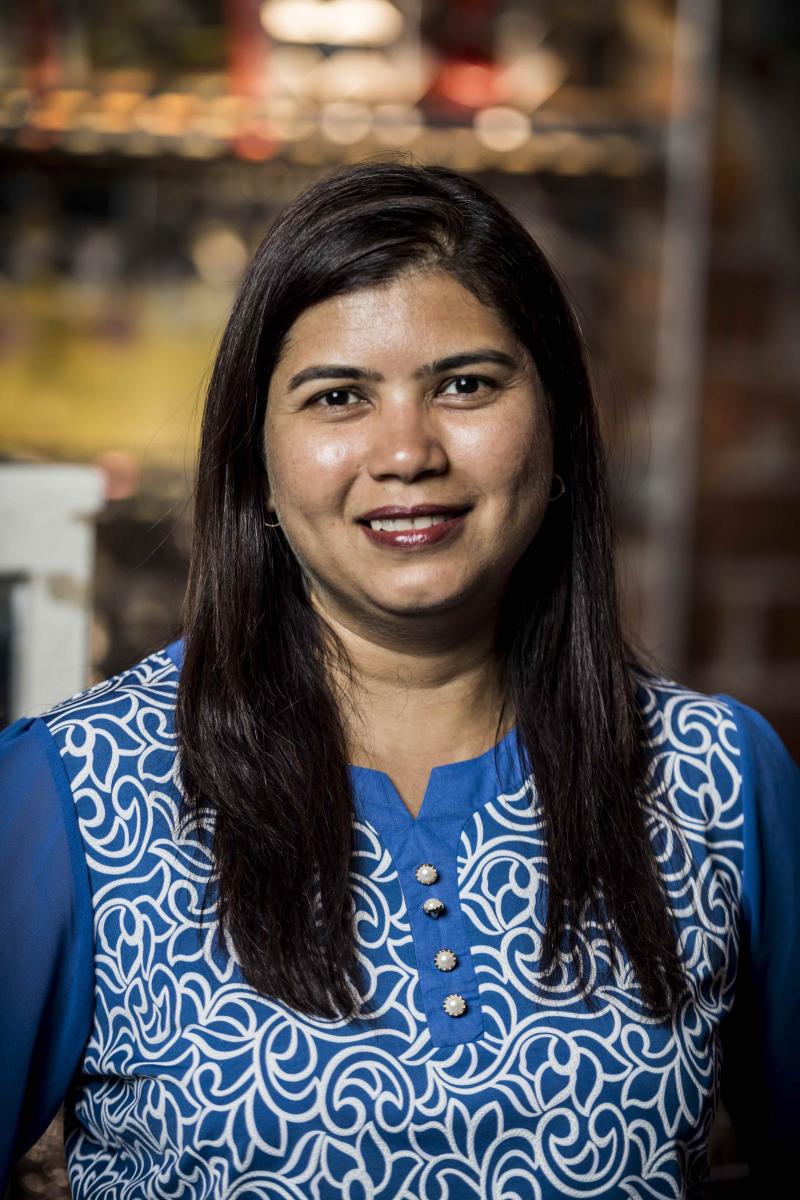 ElsaMarie D'Silva, Founder & CEO
Red Dot Foundation (Safecity), Mumbai, Maharashtra, India
In December 2012, ElsaMarie D'Silva founded Red Dot Foundation (Safecity), which is a platform that crowdsources personal experiences of sexual violence and abuse in public spaces. Since Safecity started, it has become the largest crowd map on these issues in India, Kenya, Cameroon, and Nepal.
ElsaMarie is an alumni of the Stanford Draper Hills Summer School, the US State Department's Fortune Program, and the Commonwealth Leadership Program. She is also a fellow with Rotary Peace, Aspen New Voices, Vital Voices, and a BMW Foundation Responsible Leader. She is listed as one of BBC Hindi's 100 Women and was named a Female Entrepreneur of the Year by Dusan Stojanovic of True Global Ventures. She also received the Government of India NITI Aayog's Women Transforming India Award, and was a Digital Women Awards in Social Impact winner, hosted by SheThePeople.TV. Recently, ElsaMarie was awarded a Global Leadership Award by Vital Voices in the presence of Hillary Clinton; and in 2016, she won the Gold Stevie Award for Female Executive of the Year-Government or Non-Profit (10 or Less Employees). She has penned articles that have appeared in CNN and the Huffington Post, and has spoken about her work at the Aspen Ideas Festival and at TEDx MidAtlantic, UN Women, and at Vital Voices South-to-South Leadership Summit. She has been a panelist for NDI, USIP, and SheThePeople.TV, and hosted a roundtable at the Bloomberg CityLab London in 2015.
Prior to Safecity, ElsaMarie was in the aviation industry for 20 years where she worked with Jet Airways and Kingfisher Airlines. Her last portfolio was Vice President Network Planning & Charters where she oversaw the planning and implementation of 500 daily flights.
"I am honored to be a Chair for this year's Stevie Awards for Women in Business judging panel," ElsaMarie told us. "These are prestigious awards that endorse the credibility of the organization or entrepreneur and set a high benchmark for others to match up to. I look forward to contributing to the process of identifying the next set of world class businesswomen and entrepreneurs."
COMMITTEE:
Eirliani Abdul Rahman, Executive Director
YAKIN (Youth, Adult survivors & Kin In Need), Steamboat Springs, Colorado, USA
Eirliani is Executive Director of YAKIN (Youth, Adult survivors & Kin In Need) and Director at the Kailash Satyarthi Children's Foundation. She won the 2015 BMW Foundation Responsible Leaders Award for her work on child sexual abuse. Eirliani edited Nobel laureate Kailash Satyarthi's book "Will for Children", a collection of essays on child labour. She sits on Twitter's Trust & Safety Council. Eirliani writes for the Huffington Post and the India Today Group's DailyO on the issues of child abuse and child online safety. Twitter named Eirliani one of 21 influencers in Singapore. She served in the Singapore Foreign Service from 2005 to 2015.
Anurag Abinashi, Social Media Intelligence Lead (North Europe, Middle East and Africa)
QuintilesIMS, London, London, United Kingdom
I lead QuintilesIMS's social media intelligence business for the NEMEA region. Prior to joining QuintilesIMS in May 2015, I operated as a Principal Consultant in the PA Consulting Group's Strategy & Decision Sciences practice. In this role I advised cross-sector board-level clients on business unit, market and customer strategies. I hold an MBA (with distinction) in Strategy & Marketing and an MSc in Computer Science, both from the University of Oxford.
Lauren C Anderson, Founder
LC Anderson International Consulting, New York, New York, USA
Lauren C. Anderson is an internationally recognized geopolitical and international security consultant and a distinguished former FBI executive. A Global Ambassador with Vital Voices, Board Chair of the Red Dot Foundation/Safecity, and Advisor to the U.S. Comptroller General, she is also an expert with the Women's Media Center.
Shereen Anis, Founder/ CEO
Kid Koderz City Inc., Toronto, Ontario, Canada
WXN: Canada's Most Powerful Women 2016, Telus Future Leader, National Judge: Startup Canada. Founder/ CEO of Kid Koderz City Inc.
Victoria Barnett, Senior International Marketing Manager
Department for International Trade, Epping, Essex, United Kingdom
Victoria is an experienced marketer, with both private and public sector expertise. She is also an entrepreneur with her own businesses and is passionate about supporting other SMEs. She is a previous recipient of Women in Business, and International Business Stevie Awards.
Janet Beale, Business Consultant
AMP Financial Services, East Lindfield, New South Wales, Australia
Maria Bustamante, Chairman of the Board
SE Forum, Stockholm, Stockholm lans, Sweden
Maria has worked with entrepreneurs throughout Latin America, the US and Europe, helping to position them to attract customers and investment capital. She is currently Chairman of the Board at SE Forum, a Stockholm-based organization with a mission to promote, inspire and empower social entrepreneurs to start and scale businesses that address global challenges.
Beverly Butler, Senior Vice President
Wells Fargo, San Francisco, California, USA
Beverly Butler heads Customer Experience Communications for Wells Fargo's domestic and international Treasury Management line of business. Prior to her financial services career she was in television news, video production, corporate marketing, and non-profit public relations.
Julie Calzone, CEO
Calzone & Associates, Lafayette, Louisiana, USA
Andrea Carson, Sr. Director, Communications
SAP, Vancouver, British Columbia, Canada
Andrea Carson leads communications for the head of Global Channels at SAP. She has been with SAP for more than seven years, in various leadership roles in both marketing and communication. Currently, Andrea is pursuing her Masters in International and Intercultural Communications at Royal Roads University.
Laura Casselman, CEO
BBC Systems Inc dba JVZoo, Oviedo, Florida, USA
Laura Casselman is the CEO of JVZoo, an online software solution that allows sellers to create an instant affiliate program for their products on blogs, websites, and online forums.JVZoo has been ranked by Inc. Magazine for both 2016 and 2017 on the Inc. 5000 - the most prestigious ranking of the nation's fastest-growing private companies.  Laura has 17 years of experience in growing sales and revenue, improving customer service, and aggressively controlling expenses in competitive markets. She also serves on the Board of Blade Global, a private security and investigations company.  Laura has been featured in Forbes, Entrepreneur, Huffington Post, and StartUps.co. What Laura enjoys most is fostering a culture where employees thrive and value teamwork.
Frankie DiCarlantonio, Director of Business Operations
Scaffidi Restaurant Group, Steubenville, Ohio, USA
Frankie DiCarlantonio is a young business professional in the Ohio Valley area. Currently serving as the Director of Business Operations for the Scaffidi Restaurant Group, Frankie is also deeply involved in multiple facets of the community including serving on a multitude of boards, committees, and commissions in the business, civic, and non-profit sectors.
Sandra Finn, President
EdgeCraft Advisors, Fort Lauderdale, Florida, USA
Jennifer Gee, Senior International Tax Advisor
EY, Brussels, Brussels, Belgium
Jennifer Gee is a senior international tax attorney specializing in global corporate income tax and transfer pricing. She has a Juris Doctorate from Santa Clara School of law and undergraduate degree from Occidental College. Jennifer lives and works in the Brussels area of Belgium but is originally from California, USA.
Fiona Hazell, Founder
The MAD Group, Stockholm, Stockholm lans, Sweden
Fiona is founder of The MAD Group, a network of experts that use their skills to Make A Difference (MAD). Believing that business solutions are the most effective way to tackle social challenges, Fiona works with corporates, accelerators and social entrepreneurs to develop profitable and scalable business models that create a positive impact on society. In 2016 she founded ReStock, a Just-In-Time harvesting & distribution system that aims to eliminate waste in fresh produce value chains across the Base Of the economic Pyramid.


Deborah Herman, President
Fabric Innovations, Coral Gables, Florida, USA
After graduating top of her class from Brigham Young University with a Bachelor's Degree in Fine Art, Deborah Herman followed her father's footsteps by pursuing a prestigious career in the hospitality industry. Deborah became the National Sales Manager for Bedspreads of California, her father, Arthur Herman's business, in 1982. Soon Deborah became one of its most valuable assets due to her exemplary performance in business development. Five years later, in 1987, Deborah created Textiles of California developing fabrics for the hospitality and hotel industry. A prominent businesswoman in her industry, Deborah Herman has been the National Sales Force for Virginia Quilting Commercial, better known as VQC, since 1997. Her admirable knowledge of bedding solutions and familiarity with the hospitality industry have allowed her to balance a variety of tasks, as she is now responsible for all the company's operations including sales, marketing, design, quality control, and strategic development. With customer satisfaction in mind, Deborah aligned VQC's production capabilities with her taste and expertise in fabric design through the launching of Fabric Innovations, an international supplier specializing in the global procurement of innovative products for reputable hotels. Fabric Innovations is the number one top-of-bed developer for the hotel industry, including products like the Westin Heavenly Bed, Heavenly Bed Delta Airlines, Four Points, Aloft, Element, Sheraton North America and Virgin. As president of Fabric Innovations, Deborah Herman has applied over 25 years of experience within the hospitality industry to product design and development. Her experience has enhanced both the quality of Fabric Innovations products and customer service. Deborah's future business plans are to increase Fabric Innovations positioning within the global international hospitality market.
Fran Horner, Managing Partner
Singola Consulting, Chicago, Illinois, USA
Fran co-founded Singola Consulting in 2012 with a focusing on the electronic medical record, contact center creation, and integration of interactive marketing/communications. With more than 20 years of experience in contact center operations, Fran is a recognized industry visionary who has guided healthcare organizations through their patient engagement strategies.
Erika Hovland, Managing Director
IOLITE Global Consulting, Bryn Mawr, Pennsylvania, USA
Erika is the Managing Director for IOLITE Global Consulting, where she advises businesses on growth and turnaround. Previously the Product Director for a Fortune 500 company, she led her team to reach sales of $500 million. Erika is Adjunct Faculty at Temple University. She received a 2015 Silver Stevie Award.
 
Anne Jefferies, Global Business Energy Solutions Projects
AT&T Global Vendor Management HSSE (Health and Safety) Team, Biggar, United Kingdom
A hard-working, positive leader who builds global partnerships to achieve goals with integrity.


 
Nancy Justice, Vice President Sustainability - Americas
Braiform, Asheville, North Carolina, USA
Nancy has worked extensively in the Retailer, Plastics and the Sustainability industry with various roles in Account Management, Customer Service, Supply Chain, and Leadership. Her commitment to help clients discover sustainable solutions within a retailer sector is her passion.
Vanessa Lindeberg, Client Services Specialist/Specialty Accounts Manager
OnStrategy, Reno, Nevada, USA
Vanessa has worked with OnStrategy for over a decade, allowing her to work with some of our highest profile clients including Boy Scouts of America and Miller Heiman. She dedicates much of her free time as a member of Toastmasters. She's held numerous positions and recently earned the Distinguished Toastmaster Award. She is also an active member in the leadership at her church.
Mary Lockwood, Managing Director, US
Mindera, San Diego, California, USA
Mary is an accomplished technology professional with more than 15 years of interactive and technical leadership experience specializing in e-commerce, mobile app development, social media marketing and digital marketing.
Rachel Maleh, Principal
Rachel Maleh Consulting, North Bethesda, Maryland, USA
Rachel has over 25 years of experience in nonprofit leadership with a focus on marketing and communications. Her responsibilities have included all press relations, publications, online and social media, board and donor relations as well as developing strategic plans that complement and/or enhance advocacy campaigns and community outreach. Rachel has also been responsible for small and large scale events including hands on logistics, meeting agendas and content development as well as sponsorships. One of Rachel's unique skills is that she has often been the first person (employee) in her position and has crafted the roles and built the departments to being fully staffed and sustainable beyond her tenure. She finds these roles exciting and seizes the opportunities presented to her with good humor, flexibility and hard work.
Colette Mazzucelli, University Professor
NYU New York, New York, New York, USA
Colette Mazzucelli teaches courses in European integration, conflict resolution, and international relations on graduate faculty at NYU New York. She is a recipient of the NYU SPS Excellence in Teaching Award 2013. Her diplomatic experience includes hosting the International Visitor Leadership Program (IVLP) to welcome Visiting Delegations to New York University in cooperation with the U.S. Department of State. Dr. Mazzucelli is a member of the Global Diplomacy Lab and an alumna of the Brandeis University Summer Institute for Israel Studies. In 2016, she was named an Ambassador of Peace in recognition of her service as an educator with over 20 years experience in technology-mediated learning. Dr. Mazzucelli's biography appears in Marquis Who's Who in the World 2016. As a participant in the Robert Bosch Foundation Fellowship Program for Future American Leaders, she assisted with the ratification of the Treaty on European Union ("Maastricht") in the Federal Republic of Germany, 1992-93.
Nelson Menezes, Senior Sales Officer
Kuwait Airways Cargo, Dubai, United Arab Emirates, United Arab Emirates
Luis Miranda, Chairman
Centre for Civil Society, Mumbai, Maharashtra, India
Dot connector. Founder of IDFC Private Equity. Active in the non-profit world.
 
Balaji Nagabhushan, Group Chief Administrative Officer
Tristar Transport LLC , Dubai, United Arab Emirates
John Parker, Accounting Consultant
John A Parker, CPA, Franklin, Tennessee, USA
Shenan Reed, President of Digital, North America
MEC, New York, New York, USA
Rosemary Rollins, Vice-President & Chief Finance Officer
Manatee Holdings Ltd., Courtenay, British Columbia, Canada
Rosemary Rollins is a passionate mentor and visionary business woman.   She has an MBA and graduated with a cum laude Bachelor of Science degree in Accountancy. She is a 50% shareholder of Manatee Holdings, a Canadian organization that specializes in harvesting gourmet foods from the sea, mostly for the sushi market.  Rosemary has traveled in Asia, Australia, Europe, and the Americas. Her unique ability is "unifying duality, consciously being in charge of my way of life, speaking up for integrity, believing in magic, and holding people to their highest standards and best judgement in order to create a purposeful and powerful impact."   
Amy Scarlino, President & CEO
Scarlino Speaker Strategies, LLC, Boston, Massachusetts, USA
Amy Scarlino created Scarlino Speaker Strategies, LLC in 2016 and has quickly grown it into the agency of choice for speaker program management and event research. Prior to this, Ms. Scarlino was President and CEO of The Catchpole Corporation. Over the past 15 years, she has managed the corporate speaker programs and executive visibility initiatives for companies such as VMware, PBS, AOL, Trend Micro, Microsoft, Verizon and BASF.
Nima Srinivasan, Founder & Chief
Beryl Berylitics - a Boutique Insights Agency, Bangalore, Karnataka, India
Linda Summerton, Managing Director
Advanced Care Australia, Maroochydore, Queensland, Australia
Lily Li-wen Zhang, Adjunct Professor
Seton Hall University School of Diplomacy and International Relations, Flushing, New York, USA
Dr. Lily Li-wen Zhang has been an Independent Director at Jinpan International USA Ltd Company listed on NASDAQ from 2003 to 2016. She had years of working experience at the United Nations (UN). Prior to her career at the UN, Dr. Zhang worked at Chase Manhattan Bank in New York.