New Product and Solution Provider Awards Judges
2019 JURY CHAIR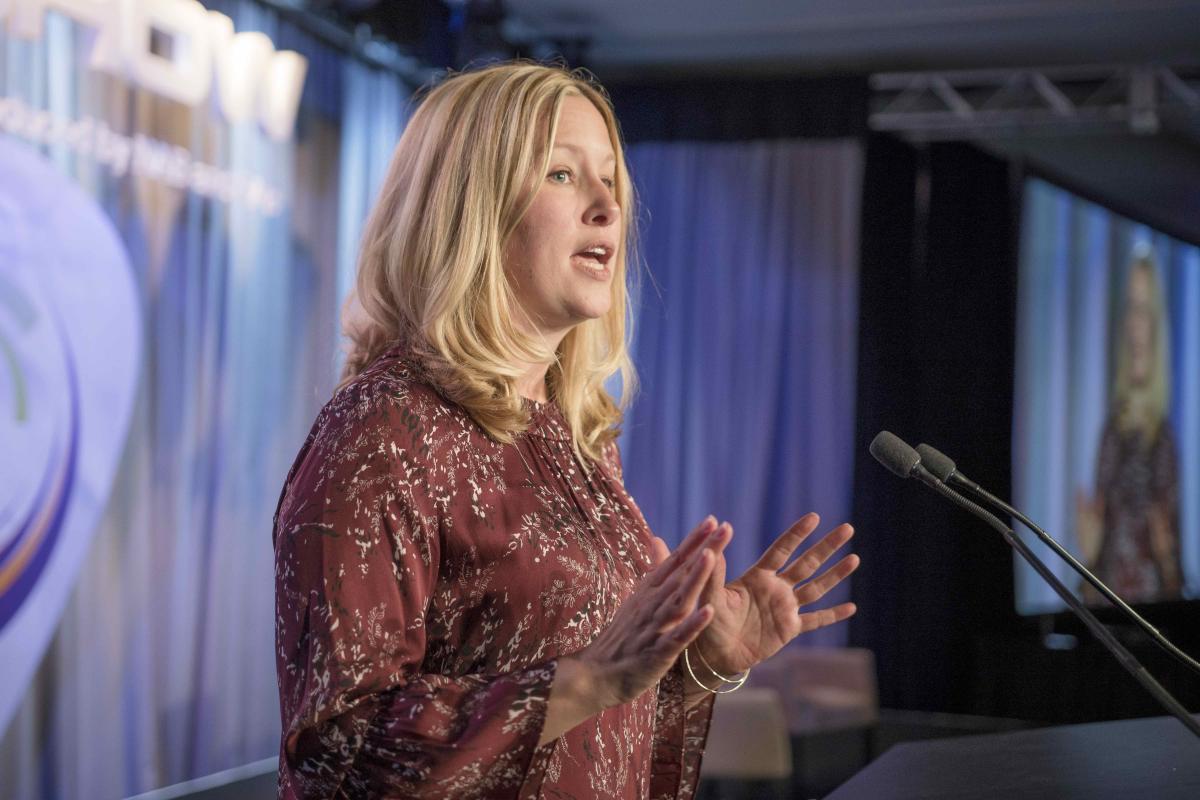 Shannon J. Gregg, MBA, President, Cloud Adoption Solutions, Pittsburgh, Pennsylvania, USA
Shannon is an aficionado of sales technology to increase efficiency in the sales process, and an early adopter and adoption influencer for sales technology systems, particularly Salesforce.com and technology that integrates with the Salesforce platform.
   Shannon is known as a change agent, particularly in M&A environments (VC/PE), with a successful track record of integrating process, product/service pricing and pricing methodologies, and notably, global teams with cultural sensitivity. Having set up three sales operations teams in technology firms, Shannon is no stranger to the needs of a growing company to identify efficient and effective sales process in order to drive revenue as quickly as possible.  She is hyper-focused on improving sales productivity and optimization, and is known for her ability to hone in on areas to improve with a lean approach and her charismatic candor.
   As the president of Cloud Adoption Solutions, a sales process and Salesforce.com consulting practice, Shannon also provides keynote talks, consulting, and workshops on sales productivity.  Her popular book, "It's About Time," is available now, and is being used by sales teams across the country to refocus on what is really important to drive revenue and results.
   Shannon delights sales teams, sales management, and executive sponsors with her ability to improve sales to drive results.  She earned a Bachelor of Arts degree from the University of Pittsburgh, an MBA from Point Park University, Pittsburgh, Pennsylvania, and is currently a PhD student in Community Engagement.  She also competes on a jazz dance team for moms.
COMMITTEE:
Neysha Arcelay, President
Precixa, Pittsburgh, Pennsylvania, United States
NEYSHA ARCELAY, founder of Precixa, has vast experience within the medical, manufacturing and financial industries. The past few decades have given her a front-row seat to business strategies that work. She has been a guest contributor or featured speaker for a number of outlets including Supply Chain Digest,  The Accounts Payable Network and the Association of Latino Professionals for America. Neysha's goal is to steer organizations clear of cookie-cutter solutions and provide custom recommendations based on the unique landscape of each client.
Ravi Arora, Associate Manager
Accenture AI, Gurgaon, Haryana, India
Benj Arriola, Senior Data Analyst
Analytics Pros, Escondido, California, United States
Benj Arriola is a data analyst at Analytics Pros and has been in the service-oriented digital marketing industry for 12 years, working various positions from strategist to VP positions with roles in production, marketing, management. Years of experienced lead him to work with small business to large Fortune 500 companies.
 
Devanshu Bhatt, Consultant, IT App Development (Test Automation Lead / Architect)
Nationwide Insurance, Columbus, Ohio, United States
12+ Years of experience in software quality assurance and Test suite automation development for Desktop, client/server, web based (Front End / Back end), GUI, SOA, E-commerce and cloud based applications. Received number of Bravo rewards for exceptional work and helping and resolving critical problems.  IT Star Nationwide Level winner. Quick learner, self starter, strong team player with good work ethics and a good understanding of QA methodologies. Handles multiple projects.
Nick Broadbent, Vice President Global Support
DataCore Software, Reading, United Kingdom
John Burchett, Director of Marketing
Microsoft, Seattle, Washington, United States
Jon Byers, Client & Product Success Lead
UNspecified, LLC, Durham, North Carolina, United States
Sid Chakrabarty, Senior Analyst
ZENOPTICS, San Jose, California, United States
Madhukar Chilaka, Senior Financial Analyst
ExxonMobil Corporation, Houston, Texas, United States
Jim de Jager, Director of Logistics of CEE Region
Liberty Global, Howald, Luxembourg
Ahmed ElQuosey, Director, Head of Key Accounts
Injazat, Abu Dhabi, United Arab Emirates
Mohammed Fattoum, IT Specialist
Fujairah Police General Headquarters, Dubai, United Arab Emirates
Andrew J. "Flip" Filipowski, Managing Partner & CEO
SilkRoad Equity LLC, Winston Salem, North Carolina, United States
David Fong, Vice President, Marketing & Communications
Aviacode, Redondo Beach, California, United States
Peter Gillett, CEO
Zuant, New York, New York, United States
Julia Goebel, Chief Marketing Officer
benefitexpress, Elmhurst, Illinois, United States
Allison Golsby, CEO
ConsultMine, Brisbane, Queensland, Australia
Ian Gotts, Founder & CEO
Elements.cloud, San Francisco, California, United States
Ian has been a Salesforce customer from 2002 and was a speaker at the first UK "Dreamforce" which was Marc, 3 customers and 120 delegates!! Since then he has spoken at Dreamforce and World Tour multiple times and has written 8 books on business analysis, implementation, change management and compliance. He is an entertaining speaker and will challenge your current thinking. He runs on Duracell and based in San Francisco and in a 787.
Tara Griffin, Senior Manager, Strategic Solutions
Genesys, Flagler Beach, Florida, United States
Jay Hartmann, Vice President, Operations
EFG Companies, Irving, Texas, United States
Arvind Kumar, Advanced Certified ERP Solution Architect-Business Strategy
Derex Technologies, Inc., Portland, Oregon, United States
David Madacsi, Technical Account Manager
Crownpeak, Denver, Colorado, United States
David has been working in customer service and technical account management for over 5 years. David's background is in technical training, technical support, development and technical account management. This is his fourth time judging for the Stevies and he's very happy to have the opportunity.
Ben Martin, Vice President, Client Support
Network Alliance, Reston, Virginia, United States
Dionne Mischler, CEO
Inside Sales by Design, Aliso Viejo, California, United States
Anni Mollett, Senior Vice President, Senior Credit Products Manager
Bank of America Merrill Lynch, Dallas, Texas, United States
Rajendran Nair, Chief Marketing Officer
Intrigo Systems, Inc, Fremont, California, United States
My Nguyen, CFO
Dr. Anemoi Corporation, Garden Grove, California, United States       
Mahir Öztürk, Product Owner
Akbank, Kocaeli, Turkey
Vijay Pandey, Director of Technology
Intueor Consulting, Inc., Irvine, California, United States
David Radin, President
M. Masters Corporation, Pittsburgh, Pennsylvania, United States
Mohammad Rizvi, IT Leader
PwC, US, Dallas, Texas, United States
Nilofer Saidi, President & CEO
Cerebella Strategies, LLC, Reston, Virginia, United States
Nilofer Saidi founded Cerebella Strategies to help build or transform customer experience programs, marketing strategies, and product management operations. Her passion and focus remain consistent with over 20 years in customer marketing and CRM. She has led large-scale programs enabling successful product launches, happier customer experiences, and operational efficiency.
Parmod Satija, Director-Product Development
Alpha Net Consulting, Santa Clara, California, United States
Paula Seeger, Technician II
University of Oregon Libraries, Eugene, Oregon, United States
Paula Seeger is a customer service expert with over 20 years experience in academic and government organizations, nonprofit institutes, and retail environments.
Randy Selleck, Senior Consultant
Service Strategies, Inc., Dayton, Ohio, United States
Riyaz Shiraguppi, Cloud Storage & Search Architect
Amazon AWS Cloud, Dallas, Texas, United States
Riyaz Shiraguppi is among top technology experts in Cloud Architecture and Disaster Recovery solutions space. He is founding member of Amazon Elasticsearch Service which is among top "Search as a Service" Solution.  As Master Inventor, he hold 50+ US Approved Patents for research in the field related to HealthCare, PetabyteScale Storage, Security and Networking. He is honored to Mentor at FasterCapital Startup incubator firm and Fellow at "Startup Leadership Program". Earlier, he also served as Board Member of IBM Invention Design Team, judging ongoing research work at IBM.
Alec Stern, CEO & Co-Founder
Point2Point Global, Boston, Massachusetts, United States
Alec has over 25 years of experience as a founder and hyper-growth agent.  One of Constant Contact's founding team of 3, he was with the company through start-up, IPO and $1.1 Billion acquisition.  Currently Alec is CEO, Co-Founder of international shipping provider, Point2Point Global, defining the company's mission and strategy.
Michel Stevens, Managing Partner
goCX, Antwerp, Belgium
Expert in Customer Experience (CX) and driving customer loyalty throughout a company. Successfully designed and implemented CX-initiatives in various industries across Europe.
David Stuart, Director, Support Services
Pythian, Ottawa, Ontario, Canada
Aniket Suru, FX Product Management
Crédit Agricole CIB, London, United Kingdom
Shoab Syed, Managing Director
Technology Solutions Company, Brampton, Ontario, Canada
Ted Teele, CEO
Touchtown, Pittsburgh, Pennsylvania, United States
Jayendra Viswanathan, Project Leader
Mphasis Limited, Chennai, Tamil Nadu, India
Jayendra is a result-focused Technical project manager near 20 years of IT experience. 10+ Years of software development/Application support/Product support/Production support. With over 8 years of Project/Program Management/PMO Experience. Good Coordinator with Outstanding record of delivering solutions on time and within budget. Management background include managing service delivery for multinational clients, leading teams, developing and managing budgets, contracts agreement, monitoring project standards for deliverable. Exposure to program management.
Bob Young, Vice President of Commercial
SupplyShift, McMurray, Pennsylvania, United States