2019 Customer Service & Support Awards Categories Judging Committee
COMMITTEE CHAIR: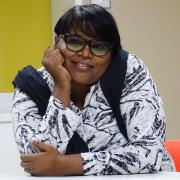 Anupama Menon, Senior Manager, Project Program Management
Dell Technologies Ltd., Bangalore, India
Anupama Menon joined Dell Technologies around 18 years ago. Starting as a Technician in Consumer Tech Support right up to her current Senior Management role, it has been an exhilarating experience for this former Hotel Management professional as every moment posed new challenges. Her current role involves leading a Global team of technical Level3 Experts who oversee product-related escalations from Tech support; launching New Products; enhancing system and process capability; and advising on risk mitigation and solutions.
Anupama is well versed with every facet of day-to-day business, and has successfully represented business interests with various upstream teams and established strong relationships, which is very important in the industry. Her cross-functional business acumen and domain expertise make her the perfect leader for this role. She has also honed her people management skills and is one of the leading pioneers of work-life balance and fun at work. Additionally, she spearheaded the organization's success in winning multiple prestigious awards from The Stevie® Awards, ICMI, and Golden Peacock for the last few years.
Amupama has a broad-spectrum portfolio, which includes Business Process Improvisation, Service Delivery, Operations Management, ITIL, and Customer Relationship Management. Additional skills include transformational foresight, and technologically innovative Solutioning coupled with impeccable Executive Presentation skills. She has multiple certifications including PMP, ITIL SO, Prince2 Practitioner, Innovation for Business, Management of Risk Practitioner, Lean Six Sigma GB, and more. Her holistic knowledge and industry insight make her the go-to person for many, including numerous leaders, for consultation on Envisioning and Solutioning.
COMMITTEE