2018 Company/Organization Categories Judging Committee
COMMITTEE CHAIR: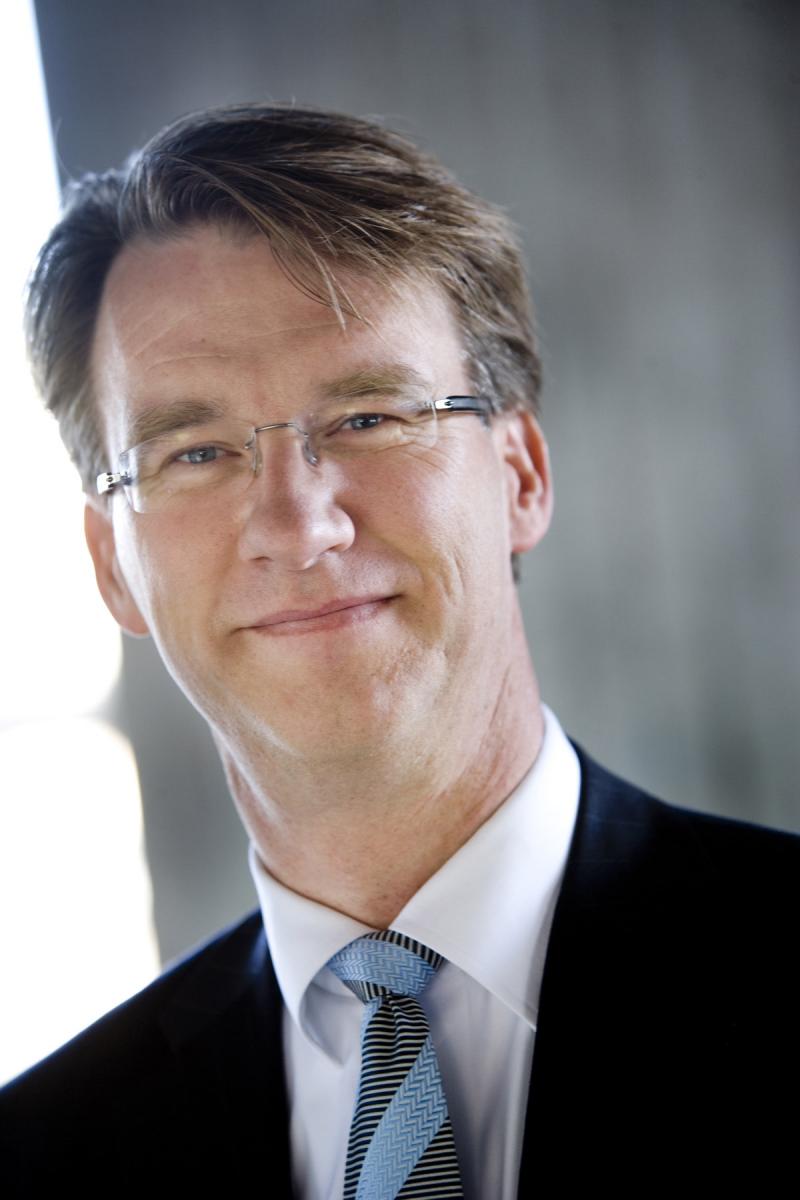 Anders Grudén, CEO
Syncron, Stockholm, Sweden
Anders Grudén has served as Syncron's CEO since 2004 and has overall responsibility for the company's global strategy, organization, culture, and operations. Under Mr. Grudén's direction, the company has expanded globally to serve its growing list of market-leading customers that rely on Syncron to maximize the performance of their after-sales service operations.
   Prior to Syncron, Mr. Grudén served in executive roles with Accenture Strategic Services, where he assisted senior executives of large, multinational manufacturing companies to take full advantage of their global market coverage. Mr. Grudén has also worked as a Managing Director for Investor AB, one of the largest financial institutions in the Nordics, investing in companies with innovative technologies. Mr. Grudén is a member of the Board of ABG Sundal Collier A/S, the leading investment bank in the Nordic region.
   Anders Grudén holds two degrees: a Master of Science in Industrial Engineering & Management; and a Bachelor of Science in Economics & Business Administration.
COMMITTEE
Saeed Al Zaabi, Manager, Business Planning & Performance Management Dept
ADNOC GAS, Abu Dhabi, United Arab Emirates
Huda Al-Husaini, Head of Business Development
Jordan Engineers Association, Amman, Jordan
Engineer Huda is the Head of Business Development at Jordan Engineers Association.  Key Achievements:  1-    Intel Youth Enterprise challenge, 2nd place, 2011.  2-    Queen Rania National Entrepreneurship Competition, 1st place, 2012.  3-    Creative Engineers Entrepreneurship competition, 2nd place, 2014.  4-    Silver Stevie Award for Women in Business, employee of the year, 2014 and 2016 and gold winner in 2017  5-    Recognized as a young creative engineer for four consecutive times in the 4th, 5th, 6th, and 7th Creative Engineers Forum.  6-    Preliminary judge at International Business Awards 2016, and Stevie Awards for Women in Business 2014, 2015, 2016.  7-    One of WeMENA 200 champions female entrepreneurs, 2017.
Tirupathi Anand, Chief Strategist
Leap Business Excellence Advisory FZE, Dubai, United Arab Emirates
TP is a Strategy Advisor helping Small and Medium Sized Enterprises in the Middle East and Africa Region on Business Planning, Business Process Improvement, Strategic Alliances, Design Thinking and Business Excellence.  TP is associated with various Business Excellence Programmes as Senior Assessor/Judge.  TP is a passionate Teacher and is teaching Finance and Management related subjects in various Universities and Business Schools.
Maurice Berkeley, Chief Executive Officer/Chairman
The Berkeley Capital Group Inc, New York, New York, United States
Ferit Yucel Demirtas, Partner, Business Development
Magnet20, Istanbul, Şişli, Turkey
Ferit Yucel Demirtas is responsible for Business Development and Client Relations in Marketing, HR and Health departments of Magnet20, which has a number of advertising and marketing awards, serving national and international brands.
Tina Dobie, Chief Customer Officer
WP Engine, Austin, Texas, United States
Tina Dobie is the Chief Customer Officer at WP Engine, the world's leading WordPress digital experience platform. With over 25 years experience in technology, enterprise software and management consulting, Tina has built and led global service teams focused on delivering client value while optimizing operations for high growth and scalability. Under her leadership, WP Engine's Customer Experience team has earned five national and international Stevie® Awards for excellence in customer service while also earning a world-class NPS score. Tina holds a BBA and an MBA from the McCombs School of Business at the University of Texas at Austin and was a Fellow for the Consortium for Graduate Studies in Management.
Phuc Diem Kieu, Founder/Director
KP LAW FIRM, Hanoi, Vietnam
Ahmed ElQuosey, Director, Head of Key Accounts
Injazat, Abu Dhabi, United Arab Emirates       
James Endersby, Managing Director
Opinium Research, London, United Kingdom
James is CEO of Opinium Research and whilst leading a fast growing research and insight agency, continues to work closely with clients from a variety of sectors in the UK and around the world. Opinium is an award winning strategic insight agency built on the belief that in a world of uncertainty and complexity, success depends on the ability to stay on the pulse of what people think, feel and do. Creative and inquisitive, we are passionate about empowering our clients to make the decisions that matter.
Ahmed Rauf Essa, Co-Founder
Telemart, Karachi, Sindh, Pakistan
Ahmed Rauf Essa is the person behind one of the biggest online companies in Pakistan. He started off single-handedly and now has a team of 100 plus like-minded professionals.
Roy Goh, Head of Legal
G&L Chartered Business Consultants Pte Ltd, Singapore, Singapore
Felix Haas, CEO & Co-Founder
amiando AG, Munich, Bavaria, Germany
Dr. Moussa Habib, UnderSecretary General, Operations and Financial Affairs
Jordan Engineers Association, Amman, Amman Governorate, Jordan
Dr. Habib Holds the position of Undersecretary General, Operations and Financial Affairs at Jordan Engineers Association since 2017. He was the Undersecretary General for Professional Development and Scientific Affairs and Director of the Engineers Training Center from 2014 till 2017. He was the Assistant Director General Chief Capacity Management Officer at the Istishari Hospital in Amman, Jordan from 2010 till 2014. He was Acting Dean of engineering, Director of the Nanotechnology Program and associate Professor of Electronics at Princess Sumaya University. He worked as a technical consultant to a number of engineering firms in the area of Speech, Imaging, IT and Biomedical Engineering. Dr. Habib published over 100 publications and articles in peer reviewed Journals and international conferences. He was the Vice President of the IEEE Jordan Chapter from 2011-2013. Dr. Habib was the Chair and the Co-chair for a number of International Conferences in the area of Electrical and Electronics Engineering. He is actively involved in a number of community service committees including Rakhaa' Noble Invest, ELO (English Language Olympics), JEA Consulting Committee, and more.He holds M.A.SC and Ph.D. in Medical Electronics from Dalhousie University, Canada. He is a senior member of IEEE and is awarded the rank of Consultant Engineer in Biomedical Engineering by JEA.
Harry Hezel, Managing Director
PROTEMA Unternehmensberatung GmbH, Stuttgart, Baden-Württemberg, Germany
Corinne Jenni, President & CEO
Strategati LLC, San Diego, California, United States
Dr. Corinne Jenni is the president and CEO of Strategati LLC, a strategy and management consulting company. Her background is in international commodity trading and shipping and teaching in the MBA program at United States University in San Diego, USA. She received her DBA in Strategic Management from Alliant International University in 2015 and since, has authored/co-authored several articles and book chapters on strategic management, executive behavior, management capabilities and small business management. She serves on the Editorial Board of two academic journals, is an active member in various professional associations (AOM, WAM, USASE, IMC USA) and the local chamber of commerce, and volunteers as a mentor and workshop presenter for SCORE.
Dr. Nezar Kamal, Marketing Manager
Golden Bee Trading LLC., Dubai, United Arab Emirates
Dr. Nezar has experience across various sectors ranging from governmental, hotels, resorts, schools and educational institutes, to software and construction and manufacturing.  During his experience in the management and training sector, he has engaged in a comprehensive approach to assess processes issues in projects through certifying those companies against ISO 14001:2015 and ISO 18001:2007 standards. The focus was on the management system, also the human factor was considered with the adaptation and training especially labors in the ground. Tackling their needs and improving their working environment increased productivity, reduced work injuries and increased their happiness.  Dr. Nezar is currently working as a Marketing Director also Management Consultant at Canadian Consultant Center where he enjoy blending his prior experience with human behavior on the field with Consultancy that can together serve the public needs through success channels.
Suchit Kaul, Executive Director
JPMorgan, New York, New York, United States
Rich Kay, PMP, Senior Program Manager, Coach, and Author
SmallSimpleChanges.com, Woodbridge, Virginia, United States
A Senior Program Manager, Coach and Author, Rich Kay originally hails from New York.  Feeling the call, Rich then journeyed overseas to serve in U.S. Marines later achieving a commission as a U.S. Naval Officer.  After his military service, Rich led programs as a Project Management Professional in information technology for Perot Systems, a dot.com start-up, SBA designated businesses, the U.S. Mint and Unisys Corporation.  As his career progressed, unfortunately so did his waist size which ultimately exceeded his age once he passed 45!  He then led his most important project to get healthy.  Shedding over 100 pounds and sharing his story in his best seller book "Small Simple Changes to Weight Loss and Weight Management", Rich inspires others to achieve their personal transformation.
Burcu Kayimtu, Managing Director
TBWA Istanbul Group, Istanbul, Turkey       
Dr. Sunil Kulwal, CEO & Managing Director
One UltraTech, Mumbai, Maharashtra, India
Ben Larkey, Principal
BAL Associates, Caldwell, New Jersey, United States
Ben Larkey, Principal/Consultant, BAL Associates, has almost 40 years of corporate responsibility, sustainability and compliance experience. Successes include a wide variety of sectors: retail management/customer service, government, NGO, consulting, operating compost facilities and managing global/ Fortune 500 environmental departments that support risk management, business development optimal resource use (teams, supply chain; zero waste; energy conservation and renewables; water) and continual improvement. Proactive, creative achievements with organizational development; planning; management of complex programs / teams and facility operations; metrics / reporting; training; public relations & marketing; research & development; and cost reduction.  He is also a multi-instrument musician and family caregiver.
Georgina Lee, Director, Global Accounts
First Advantage, Colchester, Essex, United Kingdom
I have amassed a wealth of experience across multiple departments, including Operations, Compliance and Account Management in my current company. I work closely with multi-regional as well as global clients.  I am a client advocate and truly champion best practices across businesses, striving to improve relationships and foster inter-departmental collaboration.
Vanessa Lindeberg, Client Services Specialist
OnStrategy, Reno, Nevada, United States
Aradhya Malhotra, Co-Founder
Skyless Game Studios, Philadelphia, Pennsylvania, United States
Aradhya Malhotra is an award-winning Social Entrepreneur with a passion to create, lead and advise disruptive startups that create meaningful impact. Arad features on the Global Forbes '30 under 30' list for Games. He is the co-founder of Skyless Game Studios, an organization developing immersive video games to drive social impact through training and engagement. Arad has been internationally covered in Forbes, VentureBeat, Huffington Post etc and has spoken at multiple forums including the UN, the International Anti-Corruption Conference, UPenn etc. The US government has granted Arad the O1A 'Genius' visa for "Individuals with Extraordinary Ability or Achievement" (reserved for the top 1% of global experts in their field).
Colin McKillop, Executive Director
WECAN, Windsor, Ontario, Canada
Laura Middendorf, Vice President, Finance
TEMPOE, Manchester, New Hampshire, United States       
Pradeep Mishra, Senior Business Manager
Capital One, Mclean, Virginia, United States
Pradeep is a Senior Business Manager with Capital One. During his time with the company, he has been responsible for executing numerous risk programs and initiatives that have enterprise-wide impacts. In this role, he analyzes risk and production performance data to determine any risk trends, and designs processes to help mitigate risks.  Prior to joining Capital One, Pradeep had six years of experience in technology consulting, with a focus on clients in Banking and Capital Markets. In this role, he worked with a major credit card company in the United States to lead the development and implementation of an Identity and Access Management platform for the client.
Ravi Nandivada, Vice President
Intueor Consulting, Inc., Irvine, California, United States
Dr. My Nguyen, Chief Financial Officer
Dr. Anemoi Corporation, Garden Grove, California, United States       
Tung Nguyen-Khac, Managing Director
Spil Games, Munich, Bavaria, Germany
Tung Nguyen-Khac is a management expert on digital and mobile business models.  He is CEO of Spil Games and worked previously as CEO and in top management positions for ProSiebenSat1, Bigpoint and AOL Time Warner. He is active as an advisory board member and co-founder for innovative and fast growth companies (i.e. WHOW Games, GameInfluencer).
Bhavika Parikh, Director, Investment Banking
RBC Capital Markets, Houston, Texas, United States
Linanne Sackett, President
The Brunswick Institute, Stuart, Florida, United States
Received Stevie Award as part of High Performance team across 26 NE colleges awarding a common A.A.S. degree to Verizon Technicians as Principal Investigator for100 million dollar twenty year grant involving CWA and IBEW unions.
Vetri Selvan, CEO & Managing Director
RheinBrücke IT Consulting, Cologne, North Rhine-Westphalia, Germany
Sean Shahrokhi, Senior Project & Product Manager
Verve Mobile, San Diego, California, United States
Harsh Sood, Senior Vice President
Union National Bank, Abu Dhabi, United Arab Emirates   
Ghayyath Zaghal, CEO
Attanal Al Araabi, Amman, Amman Governorate, Jordan