2018 Information Technology Awards Categories Judging Committee
COMMITTEE CHAIR: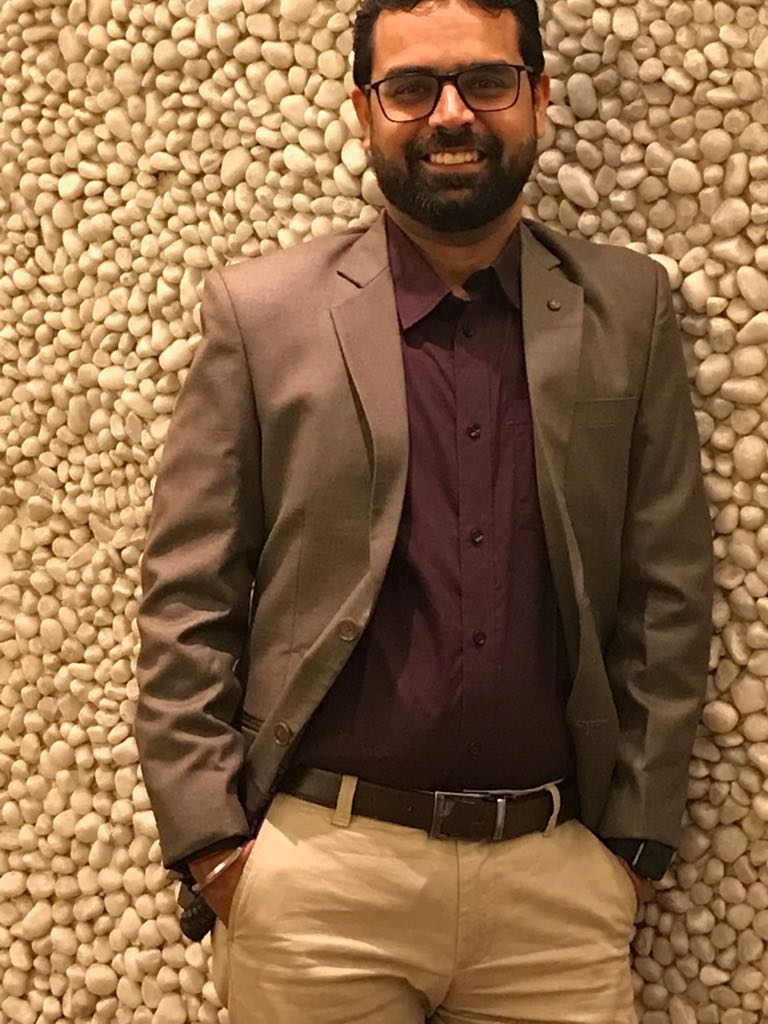 Ravi Arora, Associate Certified Manager
Accenture, Gurgaon, Haryana, India
With more than eleven years of consulting and process improvement experience in software development, and deployment for manufacturing and distribution businesses, Ravi has proven to be an invaluable resource providing oversight during ERP selection and implementation projects. Ravi is distinguished by his passion for service, his focus on collaborative team building, and his commitment to meeting client demands. Ravi is certified in SAP Production Planning Control and Quality Management areas. He also has certification in Scrum Master and ITIL v2.0.
   Ravi has addressed many companies' business cases through his niche and unique ERP solutions. His article on "KanBan' has been widely referred to by small and large-scale industries. On numerous occasions, Ravi's efficacious solutions have won him accolades and awards. Ravi has provided more than 50 companies with competencies they didn't possess, such as analyzing and addressing ERP and wholesale distribution software, organizational change, and business process needs.
   Ravi believes that finding ways to improve the customer experience is essential, and that the responsibility for improvement spans the enterprise. He is passionate, driven, and an energetic business leader with a strong desire to remain ahead of the curve in outsourcing solutions and service delivery. He is extremely pleased to be serving the Stevie Awards community as Chair of the Judgning Committee for the Information Technology in 2018.
COMMITTEE
Ahmed Mohamed Al Naqbi, Analyst IT Solutions
ADNOC Onshore, Abu Dhabi, United Arab Emirates
Ahmed Al Naqbi is an Analyst IT Solutions in ADNOC Onshore. During his 2 year tenure, Ahmed participated in different projects and tasks that lead to increase the performance and profitability in critical areas in the company especially in oil operations. Before this, Ahmed was a developer in United Arab Emirates University in Al Ain, where he was part of Academics Applications\Solutions, helped in create new solutions and maintain existing ones. Ahmed holds a bachelor degree in Science of Information Technology from Ajman University. In his spare time he enjoys hacking Linux Kernels and reading books in various topics includes military history and managements.
Bilal Awan, CEO/CTO
Fortwell Business Systems, Dublin, Ireland
Bilal Awan is an entrepreneur with a Masters in Network Security. Bilal moved from Pakistan to the United Kingdom in 2004 and then he moved to Ireland in 2007 to pursue his career.  He started technology business in 2011. While building his business, he spoke at several events addressing issues surrounding non-indigenous entrepreneurs. Bilal was awarded "Entrepreneur of the year" 2013 by Community Networks, and was listed in the top 20 young entrepreneurs (out of 2200) during Web Summit 2014.  Bilal has commenced operations in the Balkan States to provide vital IT experience to young entrepreneurs as well as strengthening the IT infrastructures in the Balkans. His focus is on Cyber Security and Cloud Technologies.  As a leading IT specialist firm, the focus is on detecting, preventing and supporting companies with their IT challenges. Bilal is already operating in 6 countries and planning to expand to further countries soon.
Devanshu Bhatt, Consultant, IT App Development (Test Automation Lead / Architect)
Nationwide Insurance, Columbus, Ohio, United States
12+ Years of experience in software quality assurance and Test suite automation development for Desktop, client/server, web based (Front End / Back end), GUI, SOA, E-commerce and cloud based applications. Received number of Bravo rewards for exceptional work and helping and resolving critical problems.  IT Star Nationwide Level winner. Quick learner, self starter, strong team player with good work ethics and a good understanding of QA methodologies. Handles multiple projects.
Aloysius Cheang, Executive Vice President of Asia Pacific
Cloud Security Alliance, Singapore, Singapore
Jack Chia, Business Development Director
Huobi Pro, Singapore, Singapore
Jack is the Business Development Director at Huobi Global.  The World's Leading Digital Asset Exchange.   Blockchain enthusiast, student all the time and trainer sometimes.  Full time Nerd.  Author and digital asset trader.  Deep passion for technology, as well as its role in society and life. Over the past few years, much of his free time has been focused on researching on various Blockchain projects.  19 Years of regional working experience.  EMBA (Distinction) University of Hull, UK BCom. University of Western Australia, Perth.

Dr. Elijah Ezendu, Chairman of Board
Charisma Broadcast Film Academy, Ikeja, Lagos, Nigeria
Dr. Elijah Ezendu had functioned as Director, Speakers Africana; Chairman Advisory Board, Igbo Filmmakers Forum; Chairman, Motus Health Initiative; Chairman, Charisma Broadcast Film Academy; GCOO, Idova Group; CEO, Rubiini (UAE); Special Advisor, RTEAN; Senior Partner, Shevach Consulting; Chairman (Certification & Training), Coordinator (Board of Fellows), Lead Assessor & Council Member, Institute of Management Consultants, Nigeria; Lead Resource, Centre for Competitive Intelligence Development; Turnaround Director, Consolidated Business Holdings; COO, Rohan; Executive Director, Fortuna, Gambia & Malta; Vice Chairman, Refined Shipping; Director of Programmes & Council Member, Institute of Business Development, Nigeria; Member of TDD Committee, International Association of Software Architects, USA.
Mohammed Fattoum, Management Adviser
Ministry of Interior Fujairah Police General HeadQuarters, Dubai, United Arab Emirates
A distinguished senior level Information Technology and Management Expert with extensive Gulf and Middle East Experience in: ISO 9001:2015, ISO 14001:2015, OHSAS 18001:2007, ISO 45001:2018, ISO 27001 (Information Security   Matters), ISO 2000 (IT Service Management) and ISO 22301:2012 (Business Continuity Managemet). Solid background in directing programs to implement applications that support Quality Management System implementation and Information Technology Service Management (HelpDesk Applications).  A distinguished senior level Information Technology Manager with extensive. Experience in Program Management, Project Engineering. Expertise in managing projects within Information Systems, Customer Services and Civil Engineering Environment. Solid background in directing programs to implement Enterprise Resource Planning (ERP) and web based applications. Proven ability to bridge technology and business goals to provide productive solutions. Experienced interfacing with key business units including Finance, Operations, Human Resouurces, Marketing and Procurement in a multi-cultural environment.
Igor Gamayunov, Executive Advisor
ianAsher LLC, Huddinge, Stockholm, Sweden
Gaurav Goyal, IT Architect
Cisco Systems Inc., Milpitas, California, United States
Arnav Gupta, Lead Full Stack Developer
Cognizant Technology Solutions, Denver, Colorado, United States
Mehdi Hassan, Principal Consultant
Wipro Limited, Painted Post, New York, United States
Mehdi Hassan is an IT Leader & Cyber Security Evangelist with 18+ years of international experience with PwC, Wipro Limited and CMC. He has experience working with many Fortune 500 customers. He has developed extensive Strategic Leadership, Management, Cyber Security Architecture and Business Development skills within a variety of business industries including Finance, Insurance, Telecom, Retail, Manufacturing and Healthcare across USA, Asia, Europe, Australia and Latin America. He has helped customers with IT Strategy, Solution Roadmap, Business/IT Alignment, Program Plan, Cyber security Implementation, Consulting and Solution Architecture & Design. He holds a Bachelor degree in Computer Science and Engineering.
Steve Iffie, President
Glossive Technologies, San Diego, California, United States
Hardik Joshi, Lead Software Engineer
State of Oregon - PERS, Wilsonville, Oregon, United States
Hardik Joshi is a highly experienced IT professional currently working in different roles including Lead Software Engineer, Release Lead and Freelance Software Architect with more than 8 years of experience in the IT corporate world.  He is AWS Certified Solutions Architect- Professional, AWS Certified Developer - Associate and Oracle Certified Professional, Java SE 8 Programmer.  He has held senior positions while consulting several Fortune 500 clients in implementing IT projects.  Hardik has extensive experience in different domains including Data Center, Financial ontology, Shipment services, SNAP and EBT card system, General ledger and Expertise in Retirement System.
Pratik Kothari, IT Delivery Manager
John Deere, Pune,  India
Arvind Kumar, Advanced Certified Solution Architect/Information Technology Manager for Business Strategies
Derex Technologies Inc., Portland, Oregon, United States
Arvind Kumar is Advanced Certified Senior ERP Solution Architect & Information Arvind Kumar is Advanced Certified Senior ERP Solution Architect & Information Technology Manager. He has 20 years of enriched experience in designing niche solutions in SAP/ Big data/ SAP HANA & IT Projects across the globe. He is Pioneer in analysis, design, development, testing & implementation of customized ERP (SAP) and Big data, Hadoop solutions for new implementations and upgrades. Experienced in delivering complex solutions in various IT SAP projects using expert level skills. Arvind Kumar began his Information Technology career in 1998. From there, he progressed through several IT leadership roles in diverse industries and technologies. Arvind Kumar is a technology expert and passionate problem solver. He is SAP OTC, SAP HANA and PMP Certified.
Venkat Machaneni, Director, Information Management
E Center Inc., Newtown, Pennsylvania, United States
Kutluk Özgüven, Professor
Kurgan d.o.o., Sarajevo, Sarajevo Canton, Bosnia-Herzegovina
Supriya Pande, Software Developer
File & ServeXpress, LLC, Irving, Texas, United States
Vijay Pandey, Director of Technology
Intueor Consulting, Inc., Irvine, California, United States
Mohammad Rizvi, Manager
PwC, Dallas/Fort Worth, Texas, United States
Mohammad Raza Rizvi is an IT professional with 15+ years of international experience with multinational firms. He has experience working with many Fortune 500 customers in the US and Europe, helping them succeed in their IT and business transformation programs and digital implementations across Finance, Telecom, Automotive and Printing Solutions industry segments.
Zubair Tramboo, Senior Manager
Deloitte Consulting, Plano, Texas, United States
Agung Wicaksono, MSc, Researcher
PT PETROSIDA GRESIK, Gresik, East Java, Indonesia
Arnold Wong, National Treasurer
Australian Computer Society, Perth, Western Australia, Australia
Arnold Wong is a passionate champion for delivering excellent customer service.  He has enjoyed a long and successful professional career in the ever evolving ICT Services Industry for over 30 years and has developed extensive Strategic Leadership, General Management, Customer Service and Business Development skills within a variety of business industries including Technology, Education, Healthcare and Resources in public and private sectors across Australia, Asia, Europe and United States.  Currently a Fellow of the Australian Computer Society, he serves as National Treasurer on the Management Committee (Board) and the ACS WA Branch Executive Committee. He has also served on numerous Community and Professional Boards.
David Yahalom, CTO & Founder
Naya Tech, San Jose, California, United States
CTO of Naya Tech, a leading database, cloud and big data solutions provider and creator of migVisor - the world's first database cloud migration advisor software.
David is a certified database expert and a cloud solutions architect with over 15 years of experience in information technology and database platforms including Oracle, Hadoop, Amazon Web Services, Microsoft Azure, MySQL, and PostgreSQL.
Khaldoun Zeinati, Engineer
Sawaed Arabia for Training and Development of Entrepreneurship (LLC non-profit company), Amman, Jordan
KZ Group is a Jordanian's group of companies working in the engineering consulting and industrial sectors. It was founded in 1993 by Chairman of the Group, Khaldoun Zeinati. Khaldoun focuses on promoting and strengthening startups, enterprises and projects doing business in Jordan and Arab countries. KZ group has been the recipient of numerous awards and certificates for product innovation and quality and was recently invited to join FasterCapital, a virtual IT incubator, as one of its regional partners in Jordan.  Khaldoun Zeinati has a BS in Mechanical Engineering from the Technological University – Baghdad. He is Chairman of the Board of Directors and Founder of Sawaed Arabia for Training and Development of Entrepreneurship (NGO).